Dog Walking Treadmill
Training, rehabilitation and exercise treadmill for all breeds of dog.

The overall benefit of using a Fit Fur Life treadmill is to provide a finely controlled, precise and measured form of exercise. It offers orthopaedic, fracture and spinal rehabilitation, obesity control and arthritis and joint support.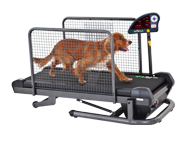 We are able to offer a one off or regular treadmill exercise session for your dog. This could be prior to grooming so that your dog is more relaxed during the grooming process, or after their groom, so that they can finish up with a slow walk and get their exercise for the day. We work in conjunction with a local Animal Physiotherapist who will be happy to meet you and assess your pets need for rehabilitation following injury or surgery or as a result of age or obesity,
Treadmill training for dogs provides a complete muscle enhancing, toning and fitness regime that not only improves the overall health and vitality of a dog, it helps curb destructive behavioural problems, increases life span and prevents or targets obesity.
The treadmill gives your dog a real workout, allows us to control the terrain, and eliminates distractions – and your dog can run or walk regardless of weather. The treadmill also has the incline and decline function to develop strength and muscle definition on the rear end and front end of the dog.
Dogs that are new to the Fit Fur Life treadmill begin with 1 – 3 minutes per session and gradually build up from there. We strongly recommend starting with a slow warm up on the 0 degree gradient and ending with a slow walk to warm down.
For safety, the treadmill comes with a harness that has been designed to automatically stop the machine, when the magnetic clip is released, if your dog should fall behind. The side rails will keep the dog in position on the treadmill during its workout. No dog is ever left unattended, and you can stay and 'walk' your dog for company.
The key rehabilitation benefits of treadmills are the ability not only to motivate a maximum effort, but also to support and encourage workouts for our canine friends to feel fit and healthy.
Ideal for anyone who lacks the time or ability to road walk their dog on a regular basis due to age, infirmity, disability or other commitments. It does not however, replace the need for your dog to be walked outside.
Fit Fur Life treadmills are used by Cesar Milan "The Dog Whisperer", Guide Dogs for The Blind, Harrods Dog Spa and K9 Security Dogs
Cost £10 for a 15 minute session
All page content © Dog Grooming by Julia 2016